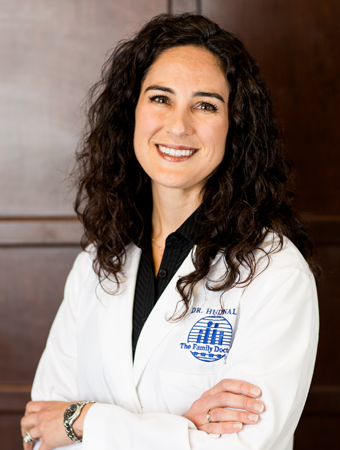 Dr. Hudnall joined The Family Doctors in June 2012. Prior to joining The Family Doctors, she worked as Clinical Instructor and Assistant Professor at LSUHSC in Shreveport.
Dr. Hudnall received several awards while completing her medical education. In 2011, she received the Resident Teaching Award. In 2008, she was the first recipient of the Ike Muslow Award in Primary Care.
Dr. Hudnall is certified by the American Board of Family Medicine. She obtained her certification at the completion of residency in 2011.
Dr. Hudnall is married and enjoys dance, running, travel and spending time with family.
Accepting new patients:
I am accepting new patients.
Primary Specialty:
Family Medicine
Medical Education:
Louisiana State University Health Science Center, School of Medicine, Shreveport, LA – Doctorate: 2008
Internships:
Ochsner Clinic Foundation, New Orleans, LA – Internship: 2009
General School Education:
The University of Alabama, Tuscaloosa, Bachelor of Science, Commerce and Business Administration: 2004
Residency:
Louisiana State University Health Science Center, Shreveport, LA – Department of Family Medicine: 2011
Academic Appointments:
Louisiana State University Health Science Center, Shreveport – Clinical Instructor and Assistant Professor: 2011
Resident Teaching Award :
2011
Board Certifications:
American Academy of Family Medicine: 2011
In Practice Since:
2011
Affiliations:
Shreveport Medical Society: 2012
Louisiana State Medical Society: 2011
American Academy of Family Medicine: 2009